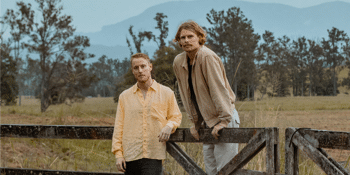 Lighter Than Air & Select Music present
Hollow Coves
with Special Guests
NightQuarter - Sunshine Coast (Birtinya, QLD)
Saturday, 15 January 2022 4:00 PM
Your ticket includes an entry pass to NightQuarter (4pm-10pm) with food stallholders, themed bars, more live music, amusement rides and more (value $5)!
Off the back of their EPs 'Wanderlust' and 'Blessings' as well as debut album 'Moments', Hollow Coves have amassed over 300 million streams on Spotify, played sold out shows across the world and earned their first Gold Single in Australia with their breakout hit 'Coastline'. Quoting influences such as Angus & Julia Stone, Coldplay, & The Paper Kites, the band carry light within an eloquent, engaging, and entrancing take on indie folk.

After a forced break from touring, and now with a bunch of new music in the oven, the band is eager to return to stages across Australia.

Minors under the age of 18 must be accompanied by a ticket holding guardian over the age of 25 at all times.
The ground level and upstairs balcony have allocated seating. You will be allocated a seat at the front gate. If you are coming with friends, buy your tickets together and arrive early to be allocated together. Minors are permitted with a responsible adult over the age of 25 years. A responsible adult can be the guardian for a maximum of two minors. Minors must have a U18 ticket and guardians must have a Guardian ticket and will be allocated seating in a section in the upstairs balcony. Alcohol will be served at the event but our staff reserve the right to check ID at the time of purchase.
Format is subject to change in line with changing QLD Health directives.

This event has allocated seating.

If you are coming with friends, buy your tickets together in order to be seated together.
Concert ticket includes an entry pass to NightQuarter night markets when they operate on Friday and Saturday night from 4pm-10pm. Concerts outside of these times will be given a free pass to use on an alternate date. Street food, more stages, themed bars, dodgems, carnival games and more.

Minors are permitted with a responsible adult over the age of 25 years. A responsible adult can be the guardian for a maximum of two minors. Minors must have a U18 ticket and guardians must have a Guardian ticket and will be allocated seating in a section in the upstairs balcony. It is not recommended to bring babies or infants due to noise levels.

This event has VIP hospitality packages available. Find out more here (https://www.nightquarter.com.au/hospitality-packages)

Companion cards are accepted. Find out how to redeem your complimentary companion ticket here (https://www.nightquarter.com.au/companion-card). We cater for all accessibility requirements. Find out more here (https://www.nightquarter.com.au/accessibility).

Refunds are offered only if the event is rescheduled and the ticket holder cannot make the rescheduled event date.

Ticket holders must abide by the terms and conditions of the venue at all times otherwise you may be asked to leave