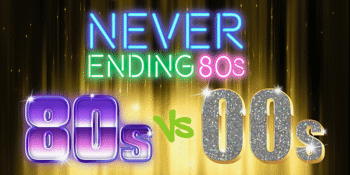 NE80s Presents 80s v 00s The Battle Of The Millennium! Eighties v Noughties
NightQuarter - Sunshine Coast (Birtinya, QLD)
Friday, 25 March 2022 4:00 pm
Your ticket includes an entry pass to NightQuarter (4pm-10pm) with food stallholders, themed bars, more live music, amusement rides and more!

Does the best music of all time only come from the 80s? Or did a new millennium bring pop hits worthy of challenging the greatest decade ever?!? We're going to find out and you need to be there. Come party like it's 1989 or... 2009, as the hottest band in the land plays the biggest hits of the decades LIVE! Madonna or Pink, Bon Jovi or Robbie Williams, INXS or The Killers, Cyndi Lauper or Britney Spears, Prince or Justin Timberlake, Whitney Houston or Beyoncé, Queen or Lady Gaga.
All ticketholders must comply with Government COVID-19 requirements in place at the time of the show, and must provide proof of full vaccination (or eligible exemption). Unless required by law, refunds will not be available for failure to comply.